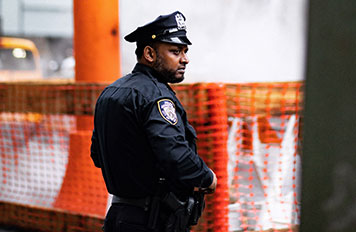 Security & Investigations
Firm in Illinois
Security Logistics Group (SLG) is a Chicago-based, minority-owned security and investigations firm that provides exceptional, professional, and strategic security services that we specially fit for our valued client's needs.
Our experienced team is guided by our three core values:
PRINCIPLE, DILIGENCE, and SERVICE. We are ready and committed to fulfilling your security needs.
At Security Logistics Group, we pride ourselves on our ability to provide a personalized security service to our valued clients. SLG delivers first-class professional services to our valued clients within the public and private sectors.
Guided by our three founding fundamentals: Principle, Diligence, and Service, SLG strives to provide the highest standard of premium quality and care.
Our specialized team of well-trained professionals is handpicked from active and retired law enforcement officers with years of experience.
This knowledge and expertise enable us to personally select the right security and customer service experts that are tailored to our client's needs.
SLG believes that uniformed unarmed security professionals and armed off-duty law enforcement officers are the best forms of crime prevention. Our firm values a clean and crisp image with the most presentable security attire to project a professional image.
Multiple uniforms styles are available to guarantee our security officers project the most suitable professional appearance for our client's needs. With this image, we know our officers are best equipped to fulfill their duties with pride and respect.
SLG patrol and inspection services are a cost-effective alternative to on-site personnel in many environments. If implemented properly, these services are a strong deterrent against crime. In addition, our patrol and inspection services add other security advantages such as after-hour control of locks and doors, alarm responses, and periodic inspections of key locations of concern.
SLG Patrol and Inspection Services provide our clients with highly trained uniformed personnel who will conduct random or scheduled (determined by the client) patrols of your facility. The patrol officer will visit the site, inspect the property, and provide our client with incident reports and information.
If problems are observed, our patrol officer will make the required notifications and remain on-site until the adequate remedy is provided. SLG's clients have the peace of mind knowing that high-quality, professional security company is watching their property."
WE'RE HIRING!
Join Our Team
If you're interested in one of our open source positions, start by applying here and attaching your resume.